We are happy to announce that our Independent Manufacturers Rep, Browne & Co has added a new member to their sales team - Jeff Terrace. Jeff will be responsible for customers in Ohio. Find out more about Jeff by checking out his bio below.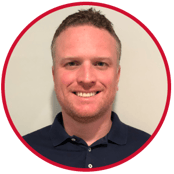 Jeff graduated from Ohio University with a Bachelor of Science in Mechanical Engineering in 2008. He started his professional career at Lincoln Electric in Euclid, Ohio as a process & project engineer in the machining and mechanical parts group. He was tasked with new product development for all the machined parts in the plant as well as new equipment implementation and process improvement.
After Lincoln Electric, Jeff joined the application engineering team at Ingersoll Cutting Tools in both the general marketplace and automotive division. The majority of his time at Ingersoll was spent working with local manufacturing companies as well as the Big Three automakers on custom tooling applications for high and low volume production, custom carbide, CBN and PCD tooling.
Jeff has also worked at Hoffman Group, a German cutting tool, hand tool, workstation and storage solutions manufacturer and an InovaTool representative since February of 2019.
Jeff joined Browne & Co in January of 2020 and will be covering the state of Ohio.

How to Reach Jeff:
E: Jeff@Brownesales.com | C: 216.556.3344