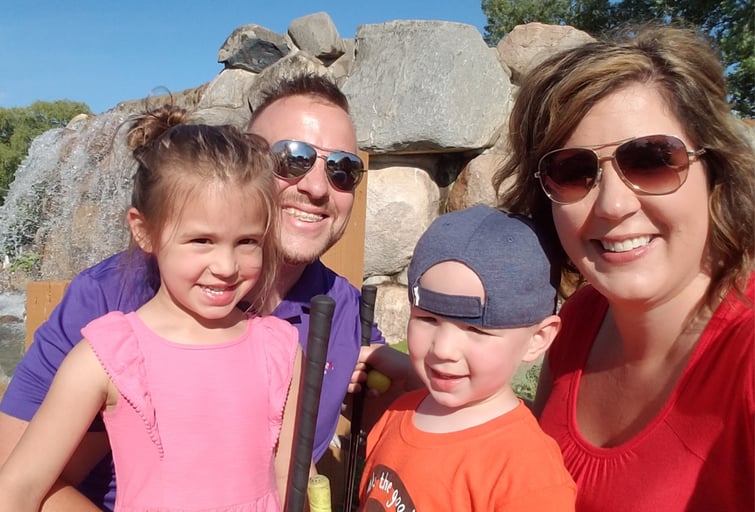 Get to know Bryan Mullen in Estimating! Bryan has been with Fullerton for 7 years and is responsible for pricing out the cost of special tooling for our customers. What Bryan likes best about working at Fullerton is the feeling of family and belonging.
Bryan has been married to his wife, Mari, for 6 years and they have 2 children together - Quinn, their 4-year-old daughter, and Owen, their 3-year-old son. Bryan loves wood working, guns, working out, playing off-road or out in the woods in his spare time.
Q&A with bryan
When you were a child, what did you want to be when you grew up?
Monster truck driver.
If Hollywood made a movie about your life, who would you like to see cast as you?
The Rock, Dwayne Johnson.
What's the weirdest job you've ever had?
Climbing cell phone towers.
If you had to eat one meal every day for the rest of your life, what would it be?
Meat Lovers Pizza.
What skill would you like to master?
Welding.
Whats the most played song on your phone?
Sympathy for the Devil, either the Rolling Stones or Guns & Roses version.
What are your top three life highlights?
1. United States Marine Corp.
2. Recovering from my leg injury that almost left me an amputee.
3. Starting a family in my 30's.
What is the one thing about you that would surprise people?
I'm scared of the dark.
What's your hidden talent?
Wood working & building things.
What's your go-to karaoke song?
Friends in Low Places.
What is your least favorite food? Why?
Cottage Cheese - have you seen someone eat that stuff? Yuck!
What is your biggest achievement to date?
Getting out of the United States Marine Crop alive after 4 years.
What Disney character do you relate to the most? Why?
The crab from Moana because I'm a good singer and dancer.
If you won the lottery, what is the first thing you would do?
Fly away to an island until I was bored.
What is your guilty pleasure?
Chocolate & peanut butter candy bars.
What is your favorite line from a movie or book?
Get busy living, or get busy dying.
If you could be any animal, what would you be? Why?
A shark. They never look back or stop hunting.