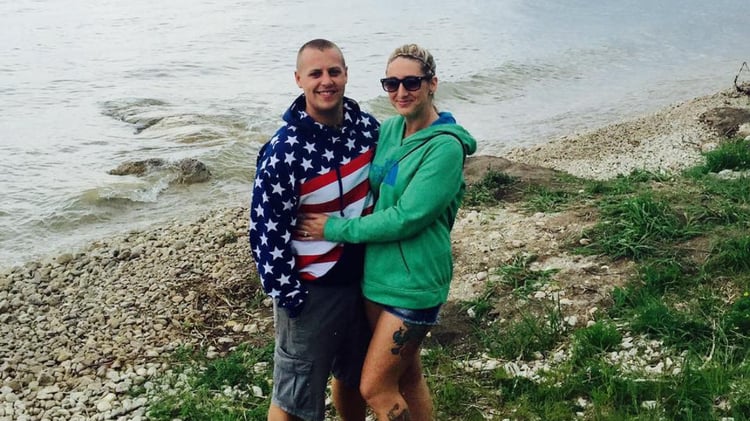 Get to know Joel Gehring, Drill Cell Team Leader. Joel has been with Fullerton for 15 years, he started working here as a co-op in high school and has been here 13 years full time. Joel is responsible for running a Walters CNC and making special drills, reamers, saws, and keyseat cutters. He also works with quoting and engineering on new tooling for customers and to improve the process for grinding tools that have been previously made. What Joel likes best about working at Fullerton is that he has the opportunity to learn every day. He also likes that he can laugh and enjoy the people he works with.
Joel is married to his amazing wife, Randi, and has a beautiful daughter, Avery, who is 10 months old. They have 2 dogs, Russel and Mossy. Joel enjoys spending time with his family and friends, camping, having bonfires at his home, hunting, fishing, mowing the lawn, plowing his driveway, and taking rides on his ranger.
Q&A with Joel
What do you consider to be the best innovation of all time?
iPhone.
What is the weirdest job you've ever had?
I worked at a horse farm when I was 14.
If you won the lottery, what is the first thing you would do.
Retire.
What's the most played song on your phone?
The Joe Rogan podcast.
What are your top three life highlights?
1. Marrying my wife.
2. Us purchasing our dream house.
3. Having our daughter.
If you could witness any historical event, where would it be?
I would go back and witness the Detroit Lions last playoff win in 1991, I was 3 when it happened.
If you could live anywhere, where would it be?
Somewhere tropical like Bora Bora in the winter and summers on Drummond Island.
Would you rather go back in time or in the future? Why?
Back in time, I'd tell my parents to invest all their money in Apple.