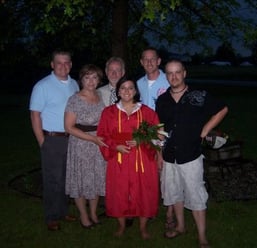 Get to know our beloved Coating Coordinator, Kathy McNally! Kathy has been with Fullerton for 37 years and enjoys working with all of the great people she has come to know over the years. She works in the coating department and manages workmen's compensation claims for Fullerton.
Kathy is married to Steve, has 3 sons (Jay, Nathan, and Aaron), and 1 daughter (Lindsay). Kathy and Steve love spending time browsing antique stores in their free time.
Q&A with Kathy
When you were a child, what did you want to be when you grew up?
A vet.
What skill would you like to master?
Speaking Spanish.
If you won the lottery, what is the first thing you would do?
Pay off my bills.
What's the most played song on your phone?
Brown eyed girl.
What are your top three life highlights?
1. Graduating college.
2. Marrying Steve.
3. Having Lindsey.
What is the one thing about you that would surprise people?
I am a feminist.
What is your hidden talent?
I am pretty handy with crafts.
What is your guilty pleasure?
Cheesecake with strawberries.
What is your least favorite food? Why?
Peas - the consistency.
What is your biggest achievement to date - personal or professional?
My marriage and raising an independent daughter.
What is your favorite line from a movie or book?
Let's roll.
What is your favorite outdoor activity?
Tubing.
If you could live anywhere, where would it be?
North Carolina.