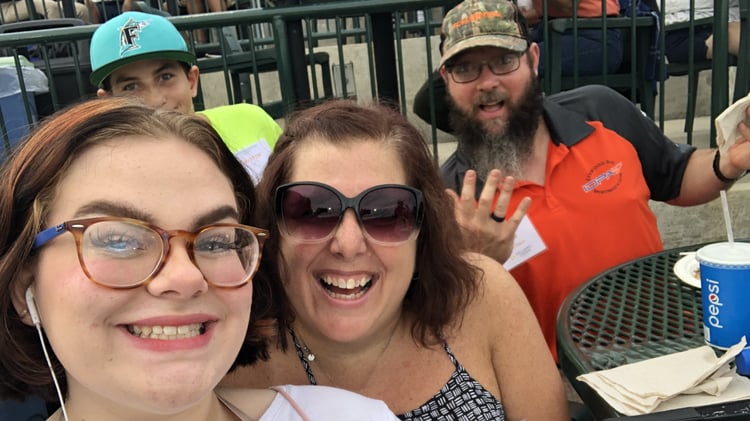 Get to know Fullerton's jill-of-all-trades - Nicole Tesch, Administrative Assistant. Nicole has been with Fullerton for 23 years full time, and 33 years if you count the summers she worked here while attending school. Nicole is responsible for invoicing, order entry, helps out in shipping, runs the Fullerton apparel store, and literally is always willing to help in whatever way she can. What Nicole likes best about working at Fullerton is how much the employees care and help for one another, especially when an employee or their family is going through a difficult time. She loves that we as a company bond together and give one another support.
Nicole is married to her wonderful and supportive husband, Thomas, and are celebrating 19 years of marriage this September. She has two amazing children. Her daughter, Grace, is 15 and is an outstanding artist and has quick wit and humor. Her son, Griffin, is 13 and is great at sports of all kinds and is full of energy. She has two cats, Patches and Tiger Lilly. Nicole and her family have a small cabin up north that they love to spend time at and go kayaking. Nicole loves spending time with her family, hanging out with her friends, and loves going to concerts (loves music of all varieties).
Q&A with Nicole
What's the most played song on your phone?
Dancing Nacies - Dave Mathews Band.
What are your top three life highlights?
1. Marrying my husband.
2. Having my children.
3. Beating breast cancer twice.
What is the one thing about you that would surprise people?
I have 13 tattoos.
When you were a child, what did you want to be when you grew up?
A grocery store checkout clerk. I thought it was totally cool how they scanned the groceries and worked the register.
What do you consider to be the best invention of all time?
The radio - I love to listen to music and talk radio.
What skill would you like to master?
Sewing/making quilts. My mother-in-law makes quilts and they are absolutely beautiful. I would love to be able to make something that awesome.
What is your favorite outdoor activity.
Kayaking.
Would you rather go back in time or in the future? Why?
Go back in time because I would love to witness all the amazing music that was made in the past and see all the artist get their start. It would be so cool to see how they came to be and create the music that inspired others to make music.