People of Manufacuturing - Mark McCombs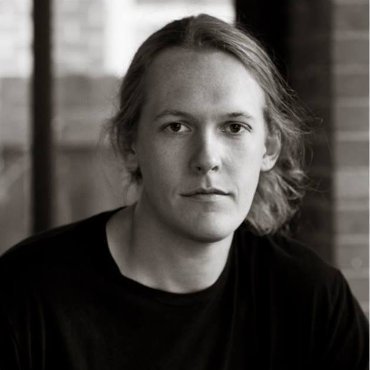 Mark McCombs, Executive Director
3Years Industry Experience, 14 Years Robotics Experience, 28 Years Old
Website: http://renaissancejax.org/
Email: info@rjax.org
I finally had the chance to meet Mark in person in Chicago at IMTS after playing pen pal and phone tag for the 6 months prior to IMTS. A mutual friend of ours introduced the two of us, knowing that we shared similar interests and our passions were kind of in the same world as if that chart with the rings were starting to overlap.
After playing phone tag and confirming that we both exist, we had a long talk about goals, the future and more importantly the connection between the maker community and manufacturing. At the time, in my narrow minded Manufacturing world view I didn't see the gravity of what he was creating right off the bat. I just knew there was something special going on and I wanted to learn more.
Having been at it professionally for 3 years now, Mark and his team have been involved in developing amazing young talent through Renaissance Jax. Starting at a young age, Renaissance Jax gets kids immersed in the "maker" mind frame, encouraging students to pursue competitive robotics and build solutions to problems facing society when they aren't building machines to compete. These students are going to drive the next wave of innovation - the tomorrow land we all wish and hope for.
Renaissance Jax is the FIRST LEGO League Affiliate Partner for 20 counties in Northeast Florida and has about 2000 robotics students that his team of mostly volunteer teachers, engineers, tinkerers, and interested parents are turning into one of the fastest growing future workforces in the country. By year 2021, Northeast Florida is growing so fast that they will have more FIRST Robotics teams per capita than any place on the globe.
Mark and his company have been able to shape the minds of young people to KNOW that whatever they can think in their mind, they can create. What is truly exciting is that there are pockets of FIRST activity all over the state of Florida. However, more companies are getting involved to help shape this highly motivated and talented group of thousands of young people. The next generation of manufacturing and engineering experts are brilliantly developed through Renaissance Jax and FIRST ( www.firstinspires.org ). A growing and now massive group of young talent ready to enter the "real world". The world of college and jobs. If these students get to see what manufacturing looks like today, they will be hooked.
His company (in just the time I have known him) has been growing exponentially and the Manufacturing Industry is starting to see this massive amount of value these "Makers" hold. Within the next 5 years, the talent coming out of Northeast Florida will have the ability to shape the future of innovation. With team work being the cornerstone of the program, these young minds learn valuable skills to be able to effectively build something together. These symbiotic teams often stay together long after the program building and creating. Mark has a knack for jump starting this mindset at an early age.
The value these young people will bring into the market place in 2, 5 and 10 years is enough to give me hope for our country.
These kids truly are, our future!
Check out the Infographic below on the Impact of First team members.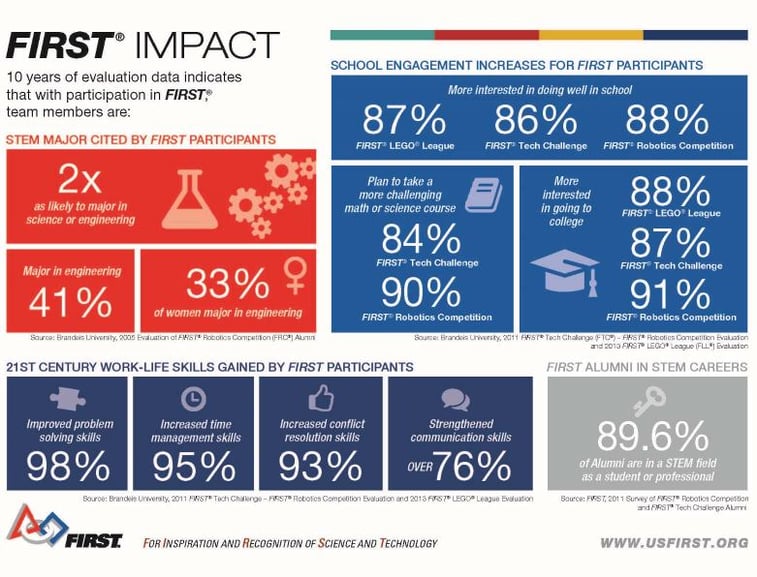 For more information on Mark and his journey visit any of the links below.
Jacksonville Times-Union: http://jacksonville.com/news/2016-12-25/terrific-asset-mark-mccombs-wants-make-jacksonville-robotics-hub
TEDxJacksonville – Why Every Kid Should Build a Robot: https://www.youtube.com/watch?v=OGdtaKd6Erw
LEGO Education: https://le-www-live-s.legocdn.com/sc/media/files/competitions/casestudy_competitions_markmccombs-v3-c18c3e0052774da51498515b2b2e94fc.pdf
First Coast Magazine: http://firstcoastmagazine.com/news/robotics-in-the-bold-city/
Jacksonville Business Journal: http://www.bizjournals.com/jacksonville/news/2014/11/26/how-one-jacksonville-creator-is-using-robotics-to.html


Greg Serio
www.thepeopleofmanufacturing.com
www.tpomfg.com/blog