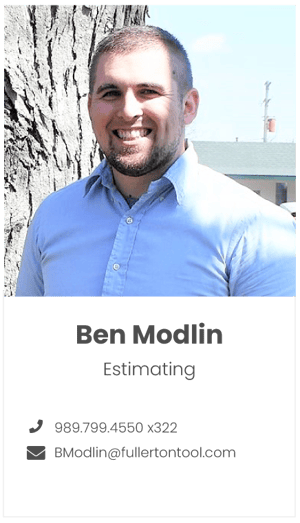 We're excited to introduce you to our estimator, Ben Modlin! He works hard to provide quotes on standards, altered standards, and specials in a timely manner.
Ben has been with Fullerton for 6 years and has previously worked in our Raw Materials department as well as Customer Service.
Ben is married to his high school sweetheart, Alexis and they are have been married for 9 years. They have 4 wonderful children, Luke (7), Logan (5), Marielle (3), and Evan (1). Ben loves to be outdoors whenever the weather decides to make that enjoyable. He loves to camp, kayak, and spend time around a good fire. He is a devout Christian and holds dearly to his faith - his life would not look like it does today without it.
Q&A with Ben
What song title best describes your personality?
I'm a Daddy and I Know It.
What's the weirdest job you've ever had?
I wouldn't call it weird per se, but I spent two years working for Stanley Steemer. People and their animals can be quite disgusting.
If you could win an Olympic medal for any sport, real or fake, what would it be?
Eating pizza!
What's the nerdiest thing you do in your spare time?
When I have time, which is rare, I really enjoy a good book.
What would you do (for a career) if you weren't doing this?
I think it would be awesome to own a campground.
What's your favorite thing about working for Fullerton?
I love the family atmosphere that has been established over the years. To be part of a company where everyone is treated like family is definitely special. Fullerton's love for its employees and our love for one another sets our company apart from all others.