As 2018 comes to a close, we can't help but take a look back at the amazing year we've had at Fullerton and the promising opportunities ahead for this company. We've had a successful 76th year of business with a lot of accomplishments to celebrate, of which we've highlighted a few of these accomplishments below.
New CNC & Inspection Equipment
Investment in new CNC and inspection equipment has been a priority for Fullerton over 2018 with over $2.3 million worth of investments towards equipment. New equipment includes a Reinecker RS 700, Walter CNC Grinder, Rollomatic 629XS, Rollomatic Nano6, Alicona Edge MasterX, Haimer Wheel Balancer, and more.
Sales Apprenticeship Program
Building a strong sales team was another goal for us this year. We established and implemented a sales apprenticeship program this year. Our first sales associate, Whitney Miller, worked with various departments at Fullerton including Customer Service, Quoting, Shipping, Engineering, and Sales as well as attended CNC machine shop classes at Delta College. Whitney will be kicking off 2019 as a Fullerton's direct sales contact for the state of California.
International Team
Expanding our brand internationally has been a core focus for us in 2018. We hired Uwe Heinrich as our VP of Global Business Development and he has done a wonderful job of finding international distributors who are excited to sell the Fullerton brand.
Exhibited at IMTS
We exhibited at IMTS this year and we had such a great experience. This year's show featured 2,563 companies, 129,415 attendees, with buyers and sellers from over 117 countries. We made great connections, both new and old, throughout the show allowing us to show off the quality, craftsmanship, and performance of our products.
Invest in Future Talent
Our commitment to investing in future talent continued in 2018 as we continue to partner and support local colleges and local high schools. We're always enthusiastic to bring in students and show them all the possible career opportunities within manufacturing and always willing to help support their programs through tooling and sponsorships.
Giving Back to Local Organizations
Giving back and supporting the organizations that provide assistance to our local community was another continued focus for Fullerton this past year. Our stewardship committee contributed time, money, and donations to over 12 local organizations that help children, the homeless, assault victims, and more.
Third-Generation Ownership
Cousins, Patrick Curry and Mat Curry, became third-generation owners of Fullerton Tool Company this year. They both share an engrained passion for manufacturing and the industries that the company serve, which will help to grow this company and service customers. They are very excited about the journey set before them and look forward to working together, tackling whatever obstacles lie ahead.
I hope you've enjoyed some of the company's highlights of 2018. If you are more of a visual person, you can also view this recap overview right here.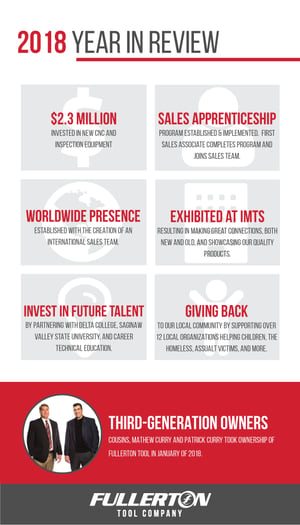 Thank you for all of your continued support and commitment to Fullerton. We appreciate your partnership and we look forward to a great 2019.
Merry Christmas and Happy New Year!