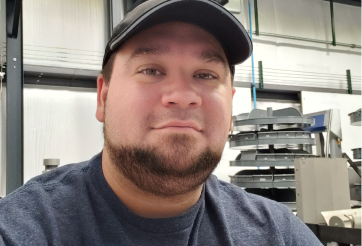 Get to know Ben martinez, coating technician.
Get to know Ben Martinez, our resident Coating Technician. Ben has worked at Fullerton for five years where his focus is around prepping tools to be coated. That entails washing them to get nice and clean to building them into a load to be put into one of our 2 coating chambers to get either FC7, FC18, FC20, or TiN coatings. When the chambers are done, they break the loads down and match tools back up with their work orders and inspect the tools for coating adhesion and chips before sending them on to their next step.
Ben thinks the best thing about working at Fullerton are the people. It has a family atmosphere and as we continue to grow, he hopes that we continue to look at each other in the same way always willing to help out those in need, i.e. our collections and looking to better our jobs and lead by example in ways that not only highlight our excellence in making tools, but also in recognizing the need to see the people behind the jobs and care for them as well.
Ben is married to his beautiful wife Allie. They have 3 children, one of which many of you shared in the grieving of in March of 2019, their son Kade. The two that they share life with in the present is their wild 3 year old Korbin and the newly mobile 7 month old Judah. They also have a slightly reclusive cat (because of loud children) named Bloomie. When he's not working at Fullerton, Ben spends his free time trying to survive young child parenthood (it's not that bad), taking part in their church, playing games on the PC with his brother and friends, creating or drawing art, and playing guitars. They also love to go camping and spending time with family.
Q&A with ben
What do you consider to be the best invention of all time?
Let's be honest, toilet paper is a pretty good invention we take for granted until you look to see that you have none.
If Hollywood made a movie about your life, who would you like to see cast as you?
Can I just have Morgan Freeman narrate it?
If you had to eat one meal every day for the rest of your life, what would it be?
Bacon.
What skill would you like to master?
Parenting.
If you won the lottery, what is the first thing you would do?
Probably sit and ponder reality.
What's the most played song on your phone?
Monster by Skillet, my son asks for it constantly.
What's your hidden talent?
My ability in art (though not as practiced as I once was.
What is your least favorite food? Why?
Broccoli, it mops your tongue.
What is your favorite outdoor activity?
Sitting around a bonfire.