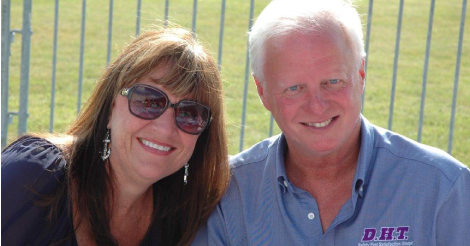 Get to know Julie Hausbeck, recipient of our 2019 Richard Curry Kerchuncker Award.
Julie has worked for Fullerton for 37 years this March and is a Customer Service Representative, which means she helps customers with their needs, whether its via the phone, email, or live chat and enters orders into our system. Julie thinks the best part about working for Fullerton is that she enjoys what she does and enjoys her coworkers.
Julie has been married to her husband, Dave, for 18 years. They have a son, Jacob, and a daughter Jamie, an 8-year-old grandson, Micah, a 14-year-old black lab, Miami, and a cool cat Finn. Julie enjoys spending time with Dave and Micah, who are always up to something fun and adventurous. When they're not around Julie enjoys baking, working in the yard, and spending time with her bffs. Julie started attending Frankenmuth Bible Church three years ago and she enjoys the groups and activities there, but mostly the worship service.
Q&A with Julie
When you were a child, what did you want to be when you grew up?
Hallmark card reader.
What's the weirdest job you've ever had?
Weeding sugar beets in farm fields.
What is your least favorite food? Why?
Olives - I've given them a couple tries to like them, but I just can't.
What skill would you like to master?
Sign language.
What are your three life highlights?
1. Deciding to give my life to God/making it public with my baptism.
2. Going through my daughter's pregnancy/birth of her son with her.
3. Getting to spend my dad's last moments on earth with him.
What's the most played song on your phone?
Changes constantly - I listen to contemporary Christian.
What is your favorite outdoor activity?
Boating.
If you could live anywhere where would it be?
Near mountains.