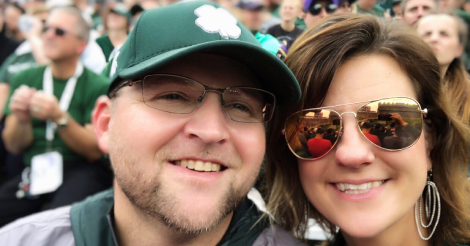 Get to know Nick Hammond, recipient of our 2019 Morgan L. Curry Award and our Marketing Manager.
Nick has been with Fullerton for almost 20 years and is responsible for managing everything marketing, including management of our brand, marketing materials, and trade shows. What Nick likes best about working at Fullerton is the people and the challenges that Fullerton has to offer. Our industry is ever changing with no end in sight for progress.
Nick has been married to his wife, Jamie, for 18 years and they have 5 children together - Austin (19), Peyton (15), Hudsen (13), Langston (7), and Brynlee (5). They are busy all the time with school, kids, and a vast array of sporting events. They have 2 dogs - a Goldendoodle and an Old English Boston Bulldog, 2 guinea pigs, and a rabbit.
Q&A with Nick
When you were a child, what did you want to be when you grew up?
Professional Bowler.
What do you consider to be the best invention of all time?
Motorized Vehicles.
What's the weirdest job you've ever had?
Painted all the fire hydrants in Bridgeport Township.
If you had to eat one meal every day for the rest of your life, what would it be?
Nachos.
If you won the lottery, what is the first thing you would do?
Take my wife to Bora Bora.
What's the most played song on your phone?
MSU Fight Song.
What are your top 3 life highlights?
1. Marrying my High School Sweetheart and having a family with her.
2. Finishing my Bachelor's Degree.
3. Help start Saginaw Golds Travel Baseball/Softball.
What is the one thing about you that would surprise people?
I have been bitten by a Piranha and now have a scar on my left hand.
What is your go-to karaoke song?
Baby Got Back - Sir Mix A Lot.
What is your least favorite food?
Sauerkraut.
What is your biggest achievement to date?
My Bachelor's degree (complete in March 2020) while having 5 kids, a full time career, run a travel baseball organization, as well as a board member for the GLBMA.
What is your favorite line from a movie or book?
Mighty Ducks - A team isn't a bunch of kids out to win. A team is something you belong to something you feel, something you have to earn.
What is your favorite outdoor activity?
Deer Hunting or Ice Fishing.
If you could live anywhere, where would it be?
Siesta Key, Florida.