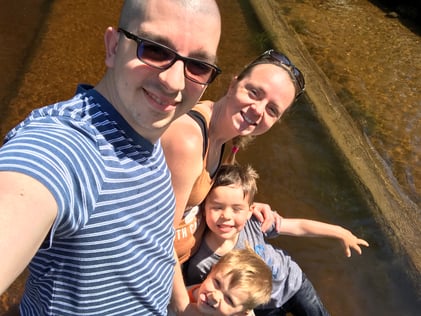 Get to know our master of all things data and web - Tim Roenicke, Web Developer. Tim has been with Fullerton for 12 years and spends his time writing a lot of code and ensuring that the company is meeting the needs of our customers digitally. What Tim likes best about working at Fullerton is the variety of projects he works on. He says that it's also a double-edged sword through, that sometimes the variety comes knocking all at the same time.
Tim is married to his wife, Sam. They have two sons, Landen and Connor, and enough pets to rival the Children's Zoo. If Tim isn't busy being a dad, he can be found messing with Christmas lights or shooting photos.
Q&A with Tim
When you were a child, what did you want to be when you grew up?
A pilot.
What skill would you like to master?
Filmmaking.
If you won the lottery, what is the first thing you would do?
Open a creative studio and support other's creative ideas. After a long vacation of course.
What are your top three life highlights?
So the obvious ones aside.
1. Shooting the largest fireworks show in the state.
2. Launching our community Christmas light show.
3. The latest website launch at Fullerton.
What is the one thing about you that would surprise people?
I have 3 kidneys.
What is your hidden talent?
I play piano.
What is your least favorite food? Why?
Beets - they taste like dirt.
What is your favorite outdoor activity?
Shooting sporting clays.
Would you rather go back in time or future? Why?
Oh it is a sad one, but I'd want to go back to show my Grandma pictures of her grandkids.