What's your Burr cut type? It's important to know the different Burr end cuts we offer to maximize your removal rate and improve your surface finish. Our Burr cut styles include single cut, chip breaker cut, double cut, diamond cut, and FAST mill cut. Check out our end cut types below to see what's best for you based on your materials and usage.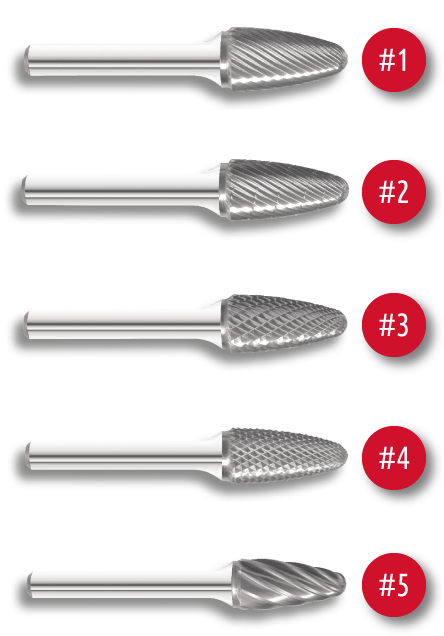 SINGLE CUT #1
Single cut is a general purpose tool designed for cast iron, steel, some copper and brass, and other ferrous materials. It will give good material removal and good workpiece finish.
CHIP BREAKER CUT #2
The addition of a chip breaker will reduce sliver size and improve operator control at a slightly reduced surface finish.
DOUBLE CUT #3
The double cut allows for rapid stock removal in harder materials. The addition of the left hand flutes reduces the pulling action, which allows for better operator control. It reduces the size of the chips, and it can be used at slower than normal speeds.
DIAMOND CUT #4
The diamond cut is very effective in heat treated and tough alloy steels, producing extremely small chips. It offers very good operator control with good stock removal at the sacrifice of finish.
FAST MILL CUT #5
For use on non-ferrous and non-metallic materials. It is designed for rapid stock removal with minimum chip loading.
When ordering you will need to specify the tool number (or EDP) and specific cut required. Have questions about Burr end cut types? Contact Fullerton's Customer Service department on Live Chat or at 855.722.7243 or sales@fullertontool.com.