We're happy to announce Integrated Tooling Solutions (ITS) is our new Independent Manufacturer's Representative for Minnesota, North Dakota, South Dakota, and Wisconsin.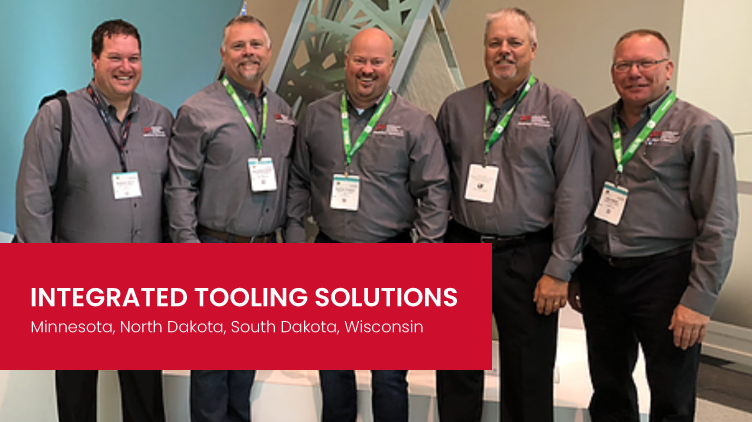 Integrated Tooling Solutions was founded in 2000 by Carl Clair. At the time a need was determined for marketing agencies that were focused on selling cutting tools and related products, and were specialized in driving sales through applications at the end user level. In 2005, Dustin Pyykola joined ITS as partner, and in 2014 became sole owner. Since that time the company has grown to five sales engineers. In total, ITS now has over 125 years accumulative knowledge and experience in the metal working industry. Over the years they have developed strong relationships with some of the best industrial distributors and cutting tool customers within their region.
MEET THE ITS TEAM:

Dustin Pyykola | President, Sales Engineer/Territory Manager
Dustin joined ITS in 2005. His background includes a combined 24 years in machining, manufacturing engineering, and sales with a major carbide company.
E: Dustinpyykola@gmail.com | P: 715.579.7873
---
Chris Biever | Sales Engineer/Territory Manager
Chris joined ITS in 2015. With over 20 years of experience in the industry, Chris held management positions at a major manufacturer as well as sales for a large carbide company. Chris adds excellent technical experience and great customer service to them.
E: Cfbiever@gmail.com | P: 507.251.4195
---
Mike Van Maastricht | Sales Engineer/Territory Manager
Mike joined ITS in 2016. He completed his apprenticeship in 1988 and brings to ITS 37 years in the industry - 25 years in the shop machining, programming and manufacturing engineering, and the last 12 years in metalworking sales, which includes 6 years with a major carbide manufacturer.
E: Mvanmaastricht@gmail.com | P: 920.450.2018
---
Brandon Wolff | Sales Engineer/Territory Manager
Brandon started with ITS in 2018, bringing 18 years experience to the team. He started his career as a Journeyman Tool & Die/CNC Machinist at one of the Wisonsin's largest shops. He then further elevated his career with a position in tool sales with LMT Tools as a territory specialist for Wisconsin. After 4 years of tool sales he was promoted to milling & tapping product manager. Within 5 years he was then promoted to national sales manager for LMT Tools.
E: brandon.wolff-its@outlook.com | P: 262.689.7069
---
Dan Simcoe | Sales Engineer/Territory Manager
Dan started with ITS in 2018, bringing over 38 years of manufacturing knowledge and experience. The first 15 years of Dan's career was spent as a machinist. He progressed his career by spending the next 23 years working and managing at a large aerospace and medical swiss machine shop.
E: dsimcoe@comcast.net | P: 612.270.4652
Help us welcome ITS to the Fullerton family!
Need help finding your Direct Fullerton Representative or your Independent Manufacturers Representative? Use our Rep Locator at https://fullertontool.com/contact/locator to search for your Sales Reps by location.