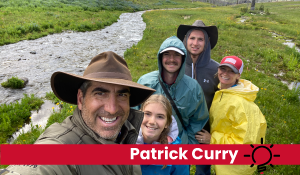 There are some people here at Fullerton who need no introduction and our President, Patrick Curry is one of those people. He's well known amongst the cutting tool industry as well as our community, but I thought he'd be a great person to learn a little more about in this month's sales spotlight.
Patrick was born and raised in Saginaw, Michigan. He grew up hanging out with his dad at work on Saturdays and has spent 30 years working here at Fullerton. As a kid, he'd caddy for his dad and Dick Terry during Fullerton's golf league. In 1989, Patrick started working at Fullerton in the steel department doing piece work and eventually moved to engineering (where there may still be a few of Patrick's auto cad tool drawings in the system). Throughout time, Patrick moved to the estimating department, became the office manager, and in 2002 moved into sales and became Vice President for Fullerton. In 2006, he became involved in international sales, and in 2008 he became President. Patrick truly loves this industry and manufacturing; he serves on several State and National boards that focus on manufacturing and local economic development.
Patrick went to Central Michigan University, graduating in 1993 with a BSBA in Industrial Engineering. While there, he met the love of his life Jenny in a business fraternity and the two have been married for the past 26 years. They have three children, Greyson (24), Aidan (22), and Isabella (13). They also have a silver lab named River and a tabby cat named Royal. They attend St. Peter Lutheran Church in Hemlock, Michigan. Patrick also enjoys attending a men's Bible study group with a few co-workers and local business associates. Patrick also is a major sports fanatic thanks to his dad's influence and is a huge outdoorsman absolutely loving to fish, hunt, golf - especially with family and friends.
Q&A with Patrick
What song title best describes your personality?
Walk by Faith, Jeremy Camp or Easy (Like Sunday Morning), by Lionel Richie
What's the weirdest job you've ever had?
Canoe Livery Boy
If you could spend a day in someone else's shoes, who would you choose and why?
George Washington, to be a part of history.
If you could win an Olympic medal for any sport, real or rake, what would it be?
Ice Hockey.
What's the nerdiest thing you do in your spare time?
I read boring manufacturing books and magazines about the cutting tool industry.
What's the strangest talent you have?
DJ for family and friends events and sports announcer for hockey games.
What is one thing still on your bucket list?
Ski Diving & Scuba Diving.
What would you do (for a career) if you weren't doing this?
Big Game and Fishing Outfitter.
What's your favorite thing about working for Fullerton?
My favorite thing is our people and our customers. We have great talent and passion in both both and they are both very inspirational to me and my family, the grit, the courage and commitment to succeed is infectious.
Read More
Topics: Employee Spotlight, Sales Spotlight