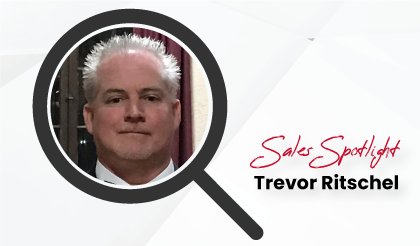 Meet Trevor Ritschel, our Regional Sales Manager covering the states of Idaho, Montana, Oregon, and Washington. Trevor has been with Fullerton for almost a year and supports our products with distributors and end users.
Trevor grew up and spent the first 44 years of his life in Southern California, in Newport Beach and Huntington Beach areas. He grew up surfing and skateboarding up and down the Orange County and San Diego County beaches. He would also take half day fishing boats out of Newport Harbor to go fishing as much as possible.
Trevor has spent the past 6 years living in Tigard, Oregon (which is about 20 minutes outside of Portland) with his wife of 25 years, Michelle, and their 17 year old son, Travis. His daughter, Vannessa, her boyfriend, and their children/Trevor's grandchildren, Chelsea and Mathew, have moved just a couple miles away from them. Trevor and his wife enjoy having all the family over for backyard BBQ's and games. Trevor enjoys shooting and getting some lake fishing in when I can.
Q&A with Trevor
What song title best describes your personality?
Simple Man - Lynyrd Skynyrd
If you could spend a day in someone else's shoes, who would you choose and why?
Benjamin Franklin - I am really interested in American History and our Founding Fathers.
What is the strangest talent you have?
I have a knack for building things or putting things together. I am constantly fixing or changing things around the house.
What is one thing still on your bucket list?
I would like to go to Washington DC and visit the monuments and all the Masonic monuments.
What would you do (for a career) if you weren't doing this?
I would probably still be an auto mechanic.
What's your favorite thing about working for Fullerton?
What I really enjoy about working for Fullerton is the "Family Environment" here. Everyone is very welcoming and helpful! Everyone is very accessible, from the President and upper management through the extremely helpful custom service and shipping department. Everyone here pitches in to help get the job done whether its in their "job description" or not. Fullerton has a very tight team of extremely knowledgeable and experienced people.